C50 Gas Mask + Carrier (MPD)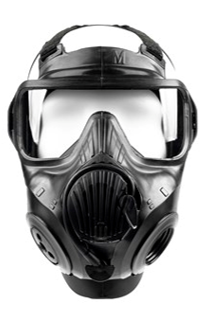 Kit includes: mask, filters, carrier.
Polyurethane visor is highly flexible plus scratch and impact resistant and will not yellow over time allows prescription lenses to be mounted inside the mask.
Mask is not only high in protection but also provides a better seal and is more comfortable to wear for extended periods.
Compatibility with helmets, CBRN protective clothing and NFPA Class 3 Suits due to the low profile, close contour brow, flat buckles and extended chin flap.
3 sizes (S/M/L) providing secure and comfortable fit for all facial shapes and sizes
For enhanced communication, an optional Voice Projection Unit (VPU) with internal microphone is easily connected via the Electronic Communication Port (ECP).  
Additional external communication  systems can be attached via this ECP using available leads.